ABOUT THE AUTHOR / ARTIST
To Reach Elwyn a.k.a. Wynn Chamberlain you can e-mail him care of kadmospub@yahoo.com messages in English, French, Italian, Spanish, Arabic and Berber are all acceptable.
Books by Elwyn Chamberlain:
Gates of Fire, Grove Press, New York, 1978
Gates of Fire, William Collins Ltd, London, 1979
Gates of Fire, Bantam Books, New York, Pocket Book Edition, 1979
Door een poort Van Vuur, Omega Boek B.V. Amsterdam, 1980
Then Spoke the Thunder, Grove Press, New York, 1989
La Nuit Tomba sur Kotagarh, Editions Robert Laffont, S.A., Paris, 1990.
PARADISE, A NEW NOVEL ABOUT Morocco On Line, Kadmos Publishing
A DOG'S LIFE, A Children's Story For Grownups On Line, Kadmos Publishing
'Just launched, April 2009 A Dog's Life - A Children's story about America for Grownups
Praise for Gates of Fire:
"This is a total novel of our time. It is at once, horrifying and brilliant. The novel is a masterpiece. The writer has the rare capacity to unveil life. This book completely unveils India. It gets under the trappings but does not ignore them. It has a whole range of the Indian scene. It shows complete sordidness and complete sublimity side by side." 1978, Arthur Lall; Ambassador and Permanent Representative from India to the United Nations.
Praise for Then Spoke the Thunder:
"Then Spoke the Thunder is a superb novel that captures you and immediately surrounds you with the exotic, erotic, mystical and political life of India - so much so that the actual world becomes unreal. Its remarkable and frightening atmosphere will stay with you for weeks." 1989 Tobias Schneebaum, American Artist, writer and anthropological adventurer extraordinaire.
Elwyn, a.k.a. Wynn Chamberlain Artist: Painter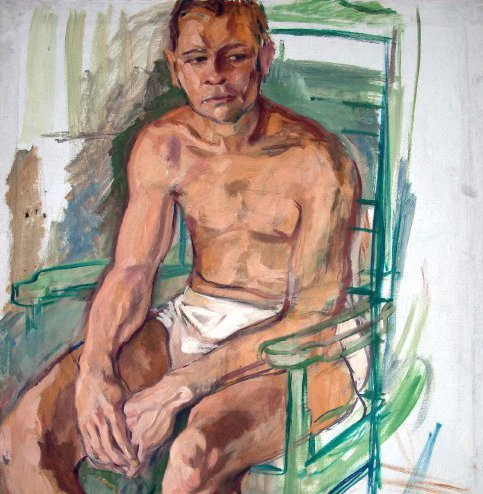 1. Bradford Friedrich, 1946, aged 15 after swimming. One of the earliest figure paintings done by Chamberlain, then 19. Friedrich later became the Chamberlain family doctor. Collection: Bradford and Patricia Friedrich, Wacouta, Minn. © copyright Elwyn a.k.a. Wynn Chamberlain
Chamberlain's first one man was at the Bressler Gallery in Milwaukee, Wisconsin in 1951. Chamberlains's first one man New York show occurred at the Edwin Hewitt Gallery, New York (formerly the Julian Levi Gallery) in May 1954. He was twenty-seven years old. Of these paintings critic Stuart Preston wrote in the New York Times, 2 May 1954: "This week's shows include paintings by Elwyn Chamberlain which may qualify him as a posthumous Pre-Raphaelite."Of a second show at the Hewitt Gallery in 1957, Preston wrote in The New York Times in February 1957: "Oblique allegories of American life make up the largest part of Wynn Chamberlain's exhibition. Chamberlain is now painting in a meticulous, somber style that emphasizes the sinister undertones of his subject matter. Most of the paintings incorporate figures in strange and for the most part obscure contexts which indicate Chamberlain intends his paintings to be indictments of certain American circumstances."Tennessee Williams, one of the first Americans to collect Chamberlain's work, bought a major painting from this show called USA. Another painting "Celebration" (1954-55) is in the permanent collection of the Whitney Museum in New York. A further Group show, brought forth the commentary by Preston, that two landscapes by Chamberlain are "clear-eyed American documents"; in March of 1958: "..new canvasses by Elwyn Chamberlain are more relaxed and romantic than his earlier work." And in a show in 1959 he praises "the scrupulous observation of a still life" by Chamberlain. In 1960 the Hewitt Gallery closed and Chamberlain began showing his work at the Nordness Gallery, New York and various museums throughout the U.S. Of the Nordness show on 18 November 1961 Stuart Preston wrote in the New York Times: "For all its many qualities, abstract or semi-abstract art does not lend itself with much success to the pictorial expounding of doctrine - Hence the extreme difficulty for an artist working in the modern style who wishes to concern himself with religious content and with the expression of religious feeling.
"Both these aims are courageously pursued in Elwyn Chamberlain's semi-abstract paintings illustrating episodes in 'The Pilgrim's Progress,' at the Nordness Gallery, 831 Madison Avenue.
"Without the benefit of realism, this artist has to make suggestive shapes significant gesture and symbolical color, tell a story. This presents many a problem, solved by Chamberlain's capacity for dramatizing the formal elements in these paintings.
"He sticks close to the text, hardly making any brush mark that does not have to do with its meaning. In fact, despite the style employed here, Mr. Chamberlain is a distinctly literal artist whose rhetorical semi-abstract imagery resembles subject matter rather than symbolizing it.
"Because the translation of meaning is the artist's chief concern, he does not bother with any stylistic flourishes for their own sake. He has a direct, impetuous manner of laying on the paint and if color is disconcerting, it subordinates itself to literary, rather than formal, demands."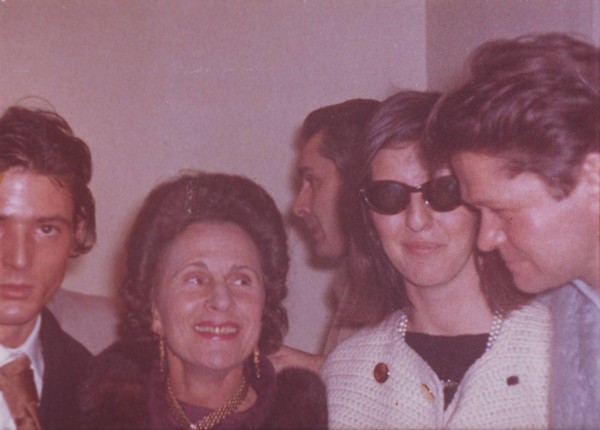 Mme Salvador Dali (Gala) and Adil, with Sally and Wynn Chamberlain at the Fischbach Gallery, New York, 1965
In 1965 Chamberlain showed a group of important nude paintings of various artistic and literary figures of the New York scene, including Ruth Kligman, Frank O'Hara, Alan Ginsberg, Peter Orlovsky, Sandra Hochman, Diane di Prima and Bill Berkson, among others. The show was reviewed by Colin Clark, son of art historian Sir Kenneth Clark and the Catalogue notes were by Alan Ginsberg (see below).
"Why am I interested in seeing myself naked?" Ginsberg writes, "Because for years I thought I was ugly. I still do, but I no longer look at myself through my own eyes, I look out - my eyes look outward at my Desire, and I reach out to touch the bodies I love without fear that I'll be rejected because I'm ugly. Because I don't feel ugly now, I feel me - more than that, I feel desirous, longing, lost; mad with impatience like fantastic old bearded Whitman to clasp my body to the bodies I adore. So I'm interested in nakedness, I love my old loves' nakedness. I love anyone's nakedness that expresses their acceptance of being born in this body, in this flesh, on this planet that will die. This flesh is only an episode, what will we do, reject it because of liver complaints? Some people misinterpret Eastern texts to say that the body is shit. William Blake and Walt Whitman interpret Gnostic texts to say that the body is the only body in eternity; better live in it while it exists. The feelings that play in the body are its spirit and with out the body there is no place to play. Not in the head; you couldn't feel anything if the head were cut off from the body. Desire is felt in the lower abdomen. So Chamberlain has painted every body naked - modern Joves, Ganymedes, Aphrodities, etc., if you want a tradition - modern friends as they really are to themselves with their naked babies lifted in triumph on bacchic friends' shoulders stepping forth from the picture toward society; happy, victorious, still alive, photographic, fleshy, truthful to their own birth without clothes."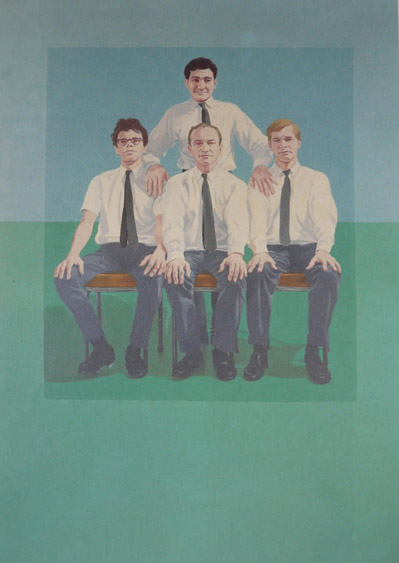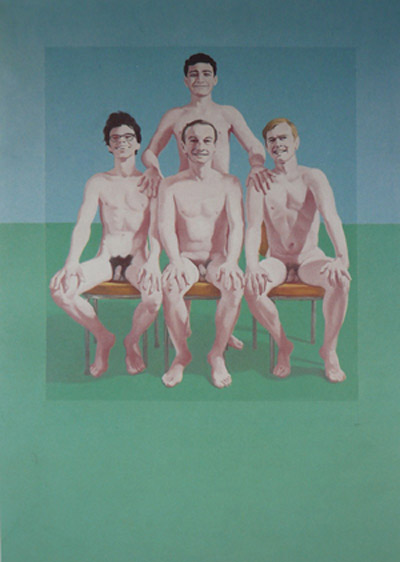 Poets Dressed and Undressed': Joe Brainard, Frank O'Hara, Joe LeSueur and Frank Lima ( standing ). two separate panels, 1964, oil on canvass, 66 by 45 inches each. Collection Earl McGrath, New York.
© copyright Elwyn a.k.a. Wynn Chamberlain
At the National Portrait Gallery, Smithsonian insitute, Washington DC - Hide and Seek Differences and desire in American portraiture, Click here for announcement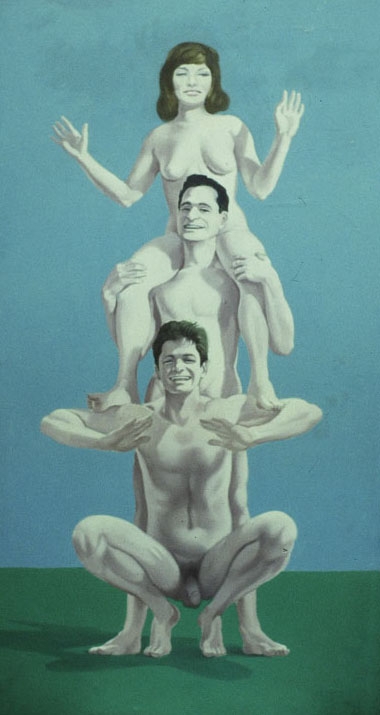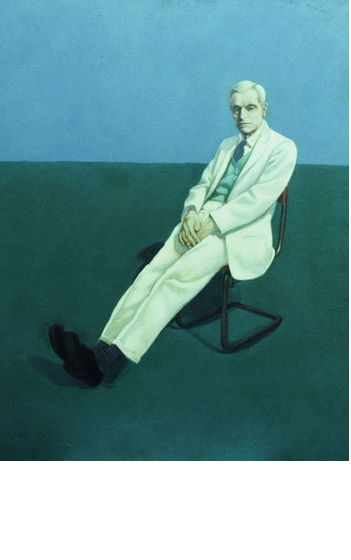 * Totem, 1963-64. Wynn Chamberlain, poet John Giorno, Ruth Kligman (lover of Jackson Pollock.) © copyright Elwyn a.k.a. Wynn Chamberlain
* Portrait of poet-critic Edwin Denby, 1964. © copyright Elwyn a.k.a. Wynn Chamberlain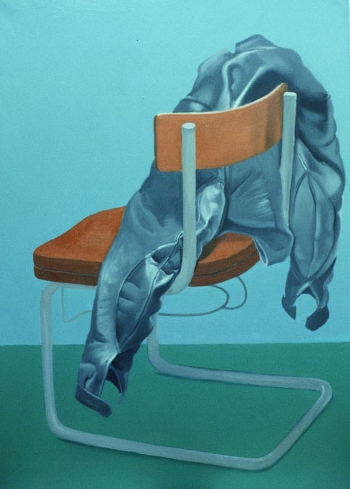 * Leather Jacket in Red Chair, 1963-64. © copyright Elwyn a.k.a. Wynn Chamberlain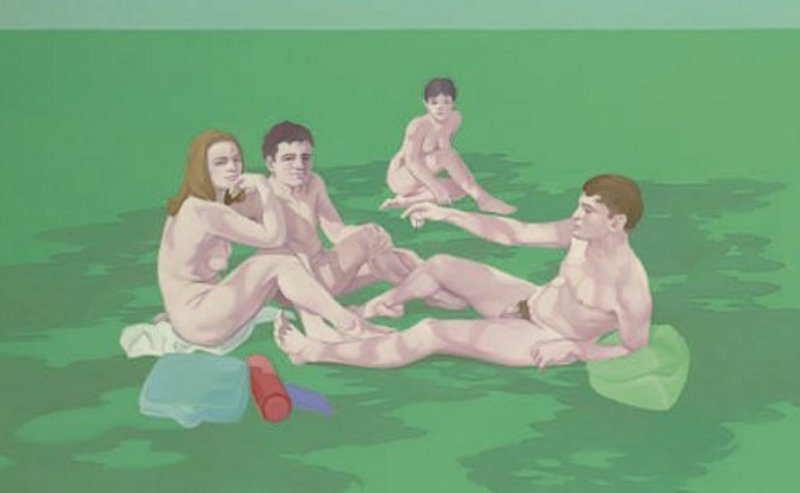 Riff on Manet's Dejeuner Sur L'Herbe, 1964. poet Frank Lima & his wife Sheila Lima, Renata Ponsold (Mrs. Robert Motherwell) & poet Tony Towle. Originally purchased by Harry Abrams; recently sold in an Estate sale by Christie's. © copyright Elwyn a.k.a. Wynn Chamberlain
* These 3 starred paintings and two others of the poet Bill Berkson, were removed without permission to one of his residences by Aladar Marberger, then a Director of the Fischbach Gallery, New York. After his death in November 1988, the paintings were taken without notice by his brother John Marberger and placed in a storage unit in Glenside, Pa, above a bowling alley. Photographs taken in 1989 by David McCarthy, then on a Fellowship at the Smithsonian Institute in Washington, DC. (which has two Chamberlain paintings from 1956-57 in their Permanent Collection). Recent efforts to reach John Marberger have been unsuccessful.
Elwyn Chamberlain as Wynn Chamberlain:  Theatrical producer.
In 1967 Wynn Chamberlain made an agreement with his friend John Vaccaro, director of The Playhouse of the Ridiculous Repertory Club, to become the Producer of a play called Conquest of the Universe, by a young then virtually unknown author Charles Ludlam. The play opened on the 25th of December 1967 at the Bouwerie Lane Theater, and was hailed as one of the most important productions since the Dada period: 1914-19.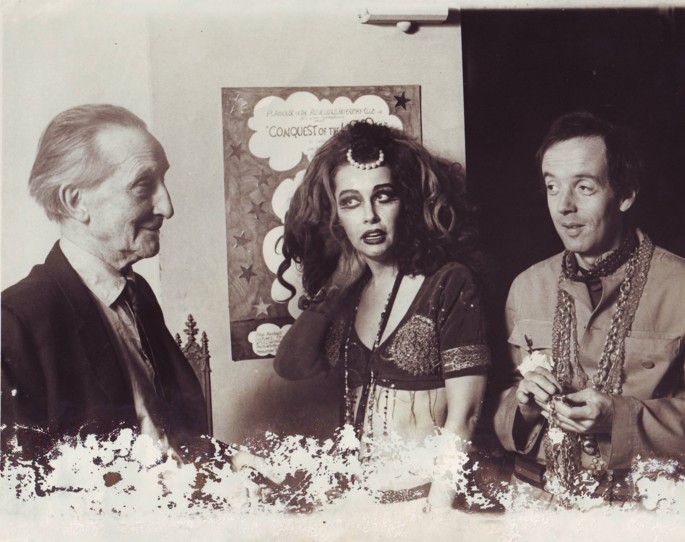 Marcel Duchamp, Ultra Violet and Taylor Mead at the opening night of Conquest of the Universe, November 1967. Photo by Sally Chamberlain.
Dan Sullivan critic for the New York Times, 27th November 1967 wrote. "The group's trade mark is its practical and not merely theoretical break with the world of good taste - a break one who likes to think of himself as a solid citizen of this world would like to condemn, but cannot in the face of such curiously liberating results. As barbarous and nilhistic as Conquest of the Universe looks on stage there is clearly discipline behind the scenes.'
Frank Lee Wilde wrote in Show Business on 2nd December 1967: A mile stone in Bisexual Art.. Conquest of the Universe has, more importantly; brought good old-fashioned comedy back to the theatre… It's odd that the style of the Marx brothers which was squarely commercial-B'way 40 years ago is now only attempted by the avant-garde.
In The Wall Street Journal the critic John O'Connor wrote on 22nd November 1967: Walt Disney dunked in Spengler and McLuhan. Desilu Productions infiltrated by Kafka and Max Reinhardt. De Sade mincing to a rock beat – you name it and you're likely to find it in Conquest of the Universe. Strung together from Hitler's writings, Shakespeare, yesterday's newspapers and old movies the play chronicles the rise of the cruel and bloodthirsty Tamberlaine to the ruler of the universe..The colorful chaos is a direct descendant of Dada. Power, sex, marriage, religion and politics. - All are grist for the nihilistic satire of playwright Charles Ludlam.. Conquest of the Universe is by turns silly and profound, appalling and jolting.. but also proves to be a very entertaining casserole of zaniness.
And in the powerful trade paper Women's Wear Daily, critic Martin Gottfried wrote on December 5th 1967. 'Here is wild, free-free-for-all theatre, so exuberant one can hardly keep from being carried away with it. Post-pop-art, post-camp- and so thoroughly obscene that it becomes non-sexual, it turns out to be the absolutely modern equivalent of burlesque, vulgar in the best down to earth basic theatre sense. More important there is theatre excitement - a giddiness of spirit and joy of invention that makes its spontaneity worth almost any price."
Finally Michael Smith said in his Theatre Journal in The Village Voice, November 30, 1967, "Conquest of the Universe is an explosion of talent that leaves the mind in tatters. An historical melodrama of a pop fantasy future; filth, climactic camp, an allegory of Armageddon, Shakespearean parody, and a juggernaut vehicle for superstars. The core of it is a point of view that faces the horror of history and personal horrors too and somehow glories in them. The Playhouse of the Ridiculous knows exactly where Nero was while fiddling as Rome burned and it is information worth having - a staggering experience.
| | |
| --- | --- |
| | |
| Wynn Chamberlain and Andy Warhol in Old Lyme, Connecticut, June 1963, for the shooting of Jack Smith's seminal film NORMAL LOVE. Also in attendance were, among others, Michelangelo Antonioni, Claus Oldenburg with his wife Patti, and John Giorno. | Wynn Chamberlain attempting to direct Taylor Mead in Brand X at Staatsburg, New York, June 1969. |
Elwyn Chamberlain as Wynn Chamberlain: Film Producer, Director and Screen Writer.
After spending the better part of a year working with Julian Beck and Judith Malina on a film version of the Living Theater's 1967 production, Paradise Now, ( which never materialized ) in 1968 Chamberlain began shooting his own film Brand X which opened at the Elgin Theatre in New York on May 19 1970 and played to packed houses at Grauman's Chinese Theatre in Hollywood, in Washington DC and Boston, at colleges and universities across the United states, in London, Amsterdam and Paris until it was hijacked in a complicated ruse and is now locked up in the archives of an American corporate conglomerate, which, despite frequent requests by film historians, archivists and museums, for this now famous Lost Film have refused to release the only existing print until very recently
Latest news: Latest news - Brand X is selected for a special screening at the 42nd International Forum of New Cinema in Berlin February 2012
More news: Brand X website lauches www.brandxmovie.com
Brand X first screening in 40 years at the New Museum , New York City, April 9th 2011 3 PM followed by a panel discussion with Wynn Chamberlain and others http://www.newmuseum.org/events/539
For details of more screenings see the website (above)
Recent Articles
New York Times article about Wynn Chamberlain and also the New Museum event Unearthing a Celluloid Artifact of the '60s
Frieze magazine article http://blog.frieze.com/brand-x/
Origional reviews
The following are excerpts from some of the reviews it received:
Jonas Mekas in his Movie Journal, The Village Voice, May 14, 1970
Go to the Elgin Theatre early next week and see Wynn Chamberlain's Brand X. It's neither Jack Smith nor Ozu nor Jerry Joffen. It's completely somewhere else. Probably I should consider it the first truly entertaining Entertainment film of the new consciousness; or the first Entertainment film of the Woodstock Nation; or maybe the Last Entertainment Film of the Nixon Nation. The film is constructed as a TV program. It's funny from beginning to end. The imagination that went into it is subtle and intelligent. The film is very well acted by Tally Brown, Sam Shepard, Joy Bang, Sally Kirkland Frank Cavestani, Abbie Hoffman and others, but it is Taylor Mead who steals the show in his numerous impersonations. For the first time since Ron Rice, Taylor Mead seems to have had in Brand X challenges and tasks where he could really put his boundless inventiveness to work and comes up with some of his best acting in years. The film hits. It spoofs. It spits. It slashes and it lashes at all sides. And has a feeling and energy about it that is healthy, confident, strong and accusing. Brand X is propaganda for the politics of joy and disorder. Brand X shines like gold.
Raymond A. Sokolov, 'The Last Taboo' Newsweek Magazine, May 25, 1970
The people who made Brand X, Director Wynn Chamberlain, Cameraman John Harnish and underground performers like Taylor Mead and Sally Kirkland know where it's at; sexually, politically and pop culturally. They understand that straight and kinky America exist side by side. What Brand X does is bring the two cultures together in an outrageously raunchy parody of normal television programming. A hospital soap opera turns into an orgy on the patient's bed. A commercial shows a classy red car cruising down a country road with a couple on the hood making love. Abbie Hoffman of the Chicago Seven bathes naked in a tubful of money. And a unisex paragon fools the panel on 'What's My Sex .. A slapstick weather show, a lunatic Presidential press conference and a sermon improvised by Taylor Mead could technically run on the air, but one knows they never would. That is the brilliant fundamental joke of Brand X: it transgresses the last taboo – the sanctity of the television tube.
Bobby Abrams, Crawdaddy, May 21, 1970
"Wynn Chamberlain deserves every praise in the book, 'cause this is the beginning of a new cinema. It's the application of Fellini to content. Whereas the Italian filmmakers who came to prominence in the sixties concerned themselves with style, (is Fellini hard to follow now? I suggest not), and whereas the early underground filmmakers rarely created a satisfactory entity, we now have a film maker who can handle poetry as texture, poetry as style and poetry as meaning."
Lil Picard, Inter/View Magazine, May 1970
"Bertold Brecht, while living in exile as a refugee from the German disaster, wrote a poem whose first line reads, 'Really we are living in disastrous times...It could be that Brand X done in 1969 and shown in May 1970, will in time become a Brechtian truth-comedy. The press conference with Taylor Mead as President of the United States and Sally Kirkland as the soap bubbling, pouting, golden haired star spangled-clad First Lady is prophetic indeed for many of the things we are experiencing today."
Howard Thompson, in the New York Times.
Devilishly, piercingly funny. Human skin is a fixation with repeated commercials on body odor and self-applied dirt.
Penelope Gillatt, New Yorker Magazine
Filthy, good-humored, crass.
Lita Eliscue, in the Los Angeles Free Press
Brand X is not only Healthy but Beautiful.
Archer Winsten, New York Post.
Scenes of, 'doing it on the road' are enacted with a spirit that makes sex education films seem positively anemic.